Marsh Kettles, L.L.C. was established in 2007 in response to the identification of a specific culinary need of outdoor chefs, and the conceptualization, design and manufacture of a series of new products that are revolutionizing the outdoor home-cooking experience.
A Message From The Owner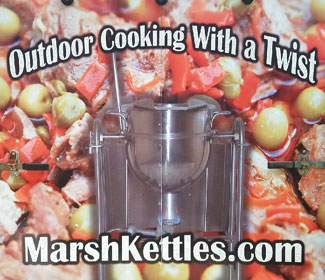 I was born and raised in New Orleans, Louisiana and moved to Mississippi Gulf coast as a young child. I was always around Cajun food and low country seafood boils. As a high school student, I was artistic, creative, and interested in metals. I learned the air-conditioning field from my dad who had his own business. I followed his trade, but specialized in marine air-conditioning/refrigeration and fabrication. I eventually started my own business which included working for the military and commercial ships both in Charleston, South Carolina and Jacksonville, Florida for approximately 28 years. While making frequent visits to Louisiana and Mississippi, I would bring sacks of crawfish and other seafood back to South Carolina and Florida to boil using the New Orleans spices for my friends and colleagues.
My interest in metals and fabrication continued as an adult, and knew there had to be a better way to boil seafood without lifting these heavy pots. So, as a hobby and in my spare time from the business, I created kettles, a tilting pot that can be used for seafood as well as jambalaya, soups, beans, and all of the great Cajun foods that I grew up eating!  Other than boiling seafood and cooking breakfast, I had no interest in the kitchen. However, one year my wife fell and severely hurt her knee. One day she said to me, "because I can't stand for a long period of time, you have your option, doing dishes or cooking."  Who in their right mind wants to do dishes!
I then started buying and collecting a variety of cookbooks, and now became very interested in cooking. Thanks to my daughter-in-law, a Louisiana chef, I called her a lot on "the how to's" and any questions that I would have about a recipe or how to make it better. Although my passion and enjoyment for cooking was a fluke, it is something I thoroughly enjoy and can honestly say I love to cook especially using stainless products that I created and made with my own hands! 
I have now sold the marine air-conditioning business, and my hobby has now become my new career and business, called Marsh Kettles. In addition to the kettles, I have created the Tote N Cooker (patent pending), ovens, pot racks, rocket stoves, which are all manufactured, engineered and assembled in the USA, made with 304 grade food safe stainless steel construction that will last for generations.
≈ Tom Marsh